Now that we have all recovered fully from amazing Homecoming Weekends from our either attended or prospective HBCU's, Xfinity on Demand's Black Film & TV destination is proud to present The HBCU Experience, a new and first-of-its-kind content collection celebrating Historically Black Colleges and Universities (HBCUs) throughout the nation.
Created for HBCU alumni and anyone interested in learning more about the unique culture of these hallmarks of the African American community, the X1 HBCU Experience features sports, movies, TV series, music playlists, and videos showcasing student achievements, vibrant performances by HBCU school marching bands, alumni spotlights and more. Programming highlights include co-ed themed TV shows like Suga (The Africa Channel), Bama State Style (Aspire TV), The Graduates (Aspire TV) and The Quad (BET), as well as classic co-ed movie favorites like 'Drumline', 'Stomp the Yard' and 'School Daze.'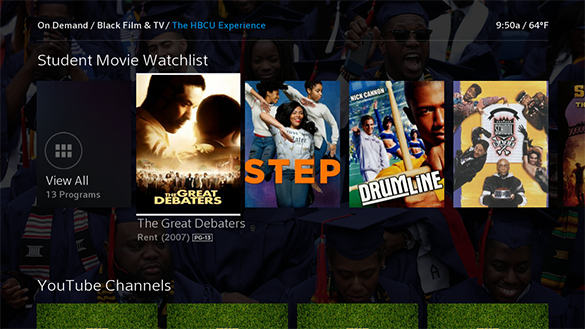 College sports fans wanting to keep track of their favorite HBCU teams can visit the "Upcoming Games" section for listings of games airing live as well as view up-to-date rankings and stats of their favorite teams.
Historically Black Colleges and Universities began to emerge in 1837 (Cheney University in Pennsylvania was the first) and were established to serve the higher education needs of the African American community after African Americans were barred from attending traditional institutions of higher education. These public & private Institutions now number over 100 and according to the UNCF, represent 10% of the African American student population at universities across the nation. HBCUs have historically played a key role in civil rights and student activism, and they continue to serve as important vehicles for the community's overall progression.
For easy access to this collection, simply say "The HBCU Experience" or "HBCU" into your X1 voice remote.